IT Support for Not-For-Profits

MANAGED IT SERVICES FOR NON-FOR-PROFITS MELBOURNE
IT Support, Managed IT Services & IT Solutions
Why IT is Benefiting Non-Profits?
It is imperative for non-profit organisations to have carefully crafted solutions that assist you in realising your mission each day. Leveraging the wide array of skilled services provided by an IT solutions partner goes a long way towards your organisation's success.
To support and enable non-profits in achieving operational excellence, performance, effective communication and awareness, technological solutions are a big part of this space. Reliable and customer focussed IT services and infrastructure provide excellent opportunities to achieve your goals.
We cover all IT needs for your Non-for-profit Australian Organization. 
Keeping up with Compliance, & Securing data
Using IT security to shield the critical information of various stakeholders including but not limited to staff, donors, sponsors, and volunteers lays a strong foundation to every organisation. Proactive management of risk, regulation-compliant systems and high-tech security will help non-profits keep their information safe in this complex digital world.
Scalable technology that grows with your initiatives
To operate within the budgetary confinements of a non-profit organisation, effective budgeting is extremely important and hence require smart, agile and cost-efficient IT solutions. Setup4 is a leader in enabling non-profits gain access to affordable IT services from Setup4 IT with a focus on a robust ROI on technology, containing capital spending, and lowering overall IT costs.
Get Professional HELP fast!
FREE CHARITY CONSULTATION HOURS FOR NON-FOR-PROFITS
We have built our infrastructure to ensure you have the highest security available for your business. Our team of dedicated experts monitors and manages all systems around the clock. We have a large knowledge base that will assist you in managing your IT questions.
Our team is also available to answer any security related questions you may have for the tasks you are about to undertake.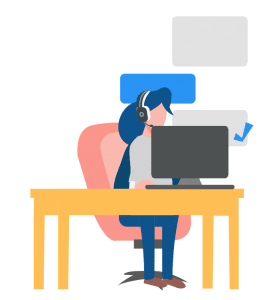 Let's have a chat with our Experts.
Need to talk to an IT Expert? Fill out the form and one of our experts will get in touch with you very shortly. 
If you prefer to give us a call, we are ready to talk to you.
We Phone and Email You
Cost Estimate of your project
In-Person Visit