Microsoft Endpoint Manager
Secure, deploy, and manage all users, apps, and devices without disruption to existing processes.
Endpoint Manager combines services such Microsoft Intune, Configuration Manager, Windows Autopilot, Endpoint Analytics, Windows Defender and Azure AD.
These services are part of the Microsoft 365 stack to help secure devices, manage access, protect data, and respond and manage risk.
Cloud-based unified management.
On-premises and cloud-based management.
Simplified device deployment.
Data-driven recommendations.
Microsoft Defender for Endpoint
Endpoint protection from cyberthreats.
Universal platform to manage and secure identities.
Take advantage of the Microsoft Endpoint Manager with their integrated technologies configured with traditional configuration manager or have deployed Intune as their Microsoft device management (MDM). 
If you are not using MDM technologies, purchasing Intune will open up the necessary licensing to start adoption. These come in three different options to choose from:
A cloud only solution using Intune 
An on-premise solution using ConfigMgr 
A co-managed solution using both Intune and ConfigMr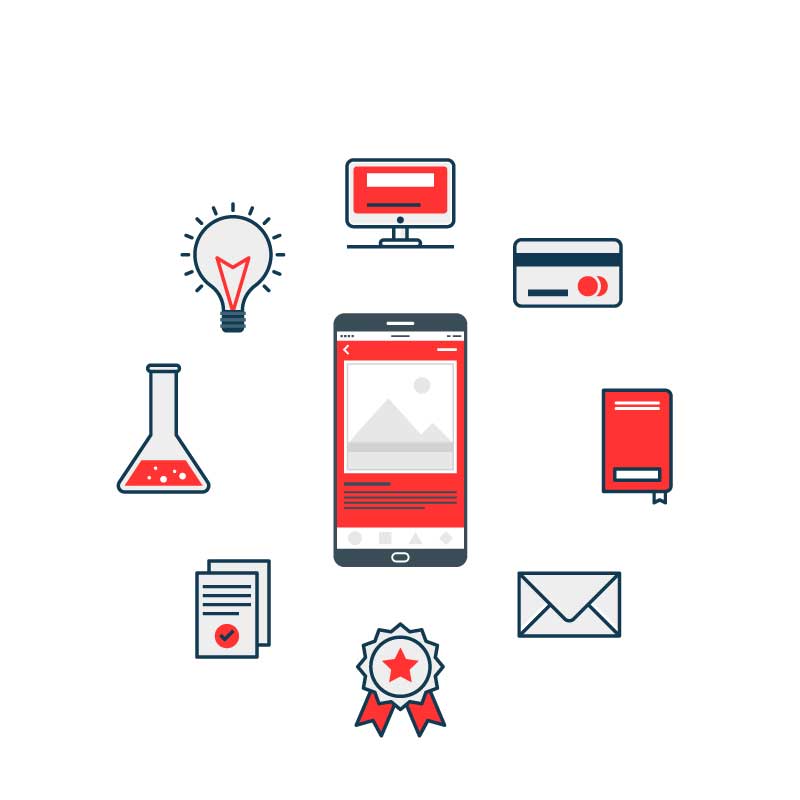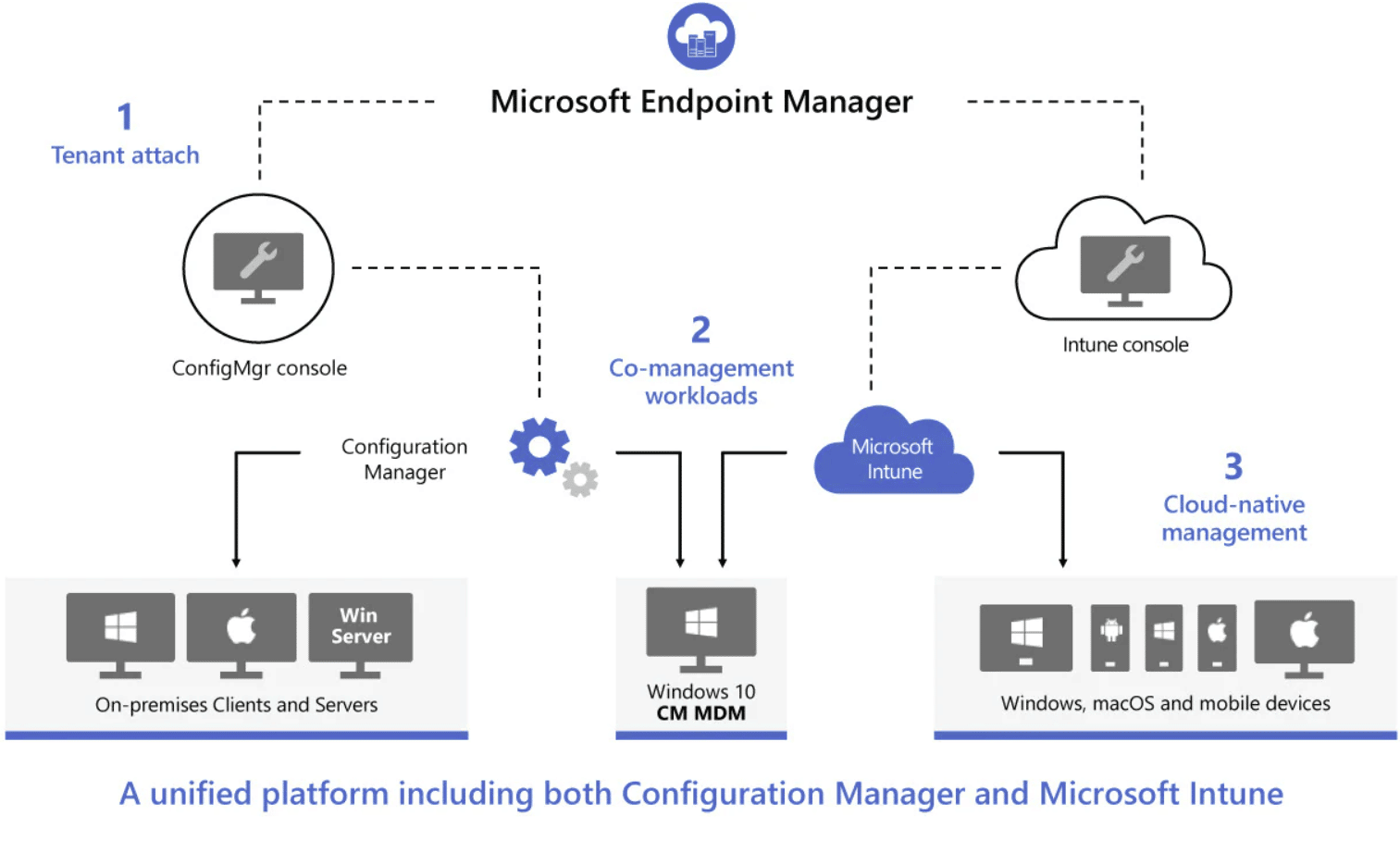 Configuration Manager can help you
with systems management activities
Increase IT productivity and efficiency by reducing manual tasks and focus on high-value projects.
Maximise hardware and software investments.
Empower user productivity by providing the right software at the right time.
Secure and scalable deployment of applications, software updates, and operating systems.
Real-time actions on managed devices.
Cloud-powered analytics and management for on-premises and internet-based devices.
Compliance settings management.
Comprehensive management of servers, desktops, and laptops.
Configuration Manager helps deliver more effective IT services
Configuration Manager can integrate
with many Microsoft technologies
and solutions
Microsoft Intune to co-manage a wide variety of mobile device platforms
Microsoft Azure to host cloud services to extend your management services
Windows Server Update Services (WSUS) to manage software updates
Certificate Services
Exchange Server and Exchange Online
Group Policy
DNS
Windows Automated Deployment Kit (Windows ADK) and the User State Migration Tool (USMT)
Windows Deployment Services (WDS)
Remote Desktop and Remote Assistance
Active Directory Domain Services and Azure Active
Directory for security, service location, configuration,
and to discover the users and devices that you want to manage.
Microsoft SQL Server as a distributed change
management database—and integrates with SQL Server Reporting Services (SSRS) to produce reports to monitor
and track management activities.
Site system roles that extend management functionality
and use the web services of Internet Information Services (IIS).
Delivery Optimization, Windows Low Extra Delay
Background Transport (LEDBAT), Background Intelligent Transfer Service (BITS), BranchCache, and other peer
caching technologies to help manage content on your networks and between devices.
Configuration Manager can also be used in
Microsoft Endpoint Manager FAQs
What is Microsoft Endpoint Manager?
Microsoft Endpoint Manager is a combined platform that allows easy management and control over devices in the office and in remote locations. This solution integrates two formerly separate products: Microsoft Intune and System Center Configuration Manager (SCCM) and other Microsoft 365 security and management capabilities. 
What are the uses of Microsoft Endpoint Manager?
Here's a brief overview of what Microsoft Endpoint Manager does:
Unified Endpoint Management (UEM): 
The platform allows you to manage all endpoints, including desktops, laptops, smartphones, tablets, and even IoT devices, from a single console.
Data Protection: 
Microsoft Endpoint Manager offers robust security features, including conditional access and compliance policies, ensuring your organisation's data remains secure.
Device Configuration and Management: 
It enables you to deploy and configure Windows, macOS, iOS, Android, and Windows IoT devices. You can manage settings, features, and security from a centralised location.
Application Management: 
It allows you to manage, distribute, and update applications across all devices in your organisation.
Cloud and On-Premises Integration: It bridges traditional on-premises management through SCCM and cloud-based management through Intune, offering flexibility based on your organisation's needs.
Simply put, Microsoft Endpoint Manager optimises endpoint management, providing a versatile platform for managing devices and applications across an enterprise while ensuring security and compliance. 
How can a business use Microsoft Endpoint Manager?
Microsoft Endpoint Manager can bring substantial benefits to a business, enhancing efficiency, security, and flexibility:
Streamlined Application Management: 
Microsoft Endpoint Manager allows businesses to manage, distribute, and update applications across a diverse array of devices seamlessly. This capability is crucial in today's business environment, where timely software updates are necessary to ensure productivity and security. It also allows businesses to deploy critical software applications efficiently, minimising downtime and ensuring all employees have the tools they need to perform their jobs effectively.
Flexibility and Adaptability: 
Microsoft Endpoint Manager effectively bridges the gap between traditional on-premises and cloud-based management. This flexibility means businesses are no longer restricted to a single mode of operation but can choose a model that best fits their operational needs and future growth plans. This flexibility is particularly beneficial for businesses undergoing digital transformations or those seeking to modernise their IT infrastructure.
Cost-Effectiveness: 
Microsoft Endpoint Manager integrates several management and security solutions into a single platform, which can lead to significant cost savings. Instead of investing in multiple standalone solutions, businesses can leverage the comprehensive capabilities of Microsoft Endpoint Manager. The Manager reduces the complexity and cost of managing multiple systems, leading to more streamlined operations and lower IT costs.
Scalability: 
As a cloud-based solution, Microsoft Endpoint Manager is easily scalable, making it an excellent solution for businesses of all sizes, from small companies to large enterprises. Microsoft Endpoint Manager can scale to accommodate more devices, and complex management needs as the business grows and evolves. This scalability ensures companies can continue to manage their devices effectively, regardless of how much they grow or how their needs change over time.
How do I get Microsoft Endpoint Manager services in Australia?
Obtaining Microsoft Endpoint Manager services in Australia is a breeze, thanks to Setup4. As a leading IT solutions provider, we can guide you through the processes and ensure a seamless transition. 
You can contact the Setup4 team by booking a meeting with us today. Our experienced professionals will conduct a thorough consultation to understand your needs and tailor a solution that perfectly aligns with your business requirements. 
Setup4 will handle the implementation process and ensure all devices are integrated effectively. To book a meeting, get in touch with us today. 
Let's have a chat with our Experts.
Need to talk to an IT Expert? Fill out the form and one of our experts will get in touch with you very shortly. 
If you prefer to give us a call, we are ready to talk to you.
We Phone and Email You
Cost Estimate of your project
In-Person Visit